It's 5 days until the Cincinnati Bengals and the Los Angeles Rams faceoff in Los Angeles for Super Bowl LVI. This year, the NFL is giving Super Bowl attendees free NFTs that commemorate their tickets and serve as digital keepsakes. Also for the first time, there are five headliners for the Super Bowl halftime show – Dr. Dre, Snoop Dogg, Eminem, Mary J Blige, and Kendrick Lamar.
37 total advertisers will go for the ring
Thirty-seven advertisers representing nine industries bought ads they hope will transform their businesses. But, big names that have advertised in the past including American Airlines, Audi, Kraft Heinz, Lexus, Mars Wrigley, Tide, and Twitter are sitting this year out.
6 rookies will see if they're up to the challenge
Sam's Club, Quickbooks, Crypto.com, FTX, Rakuten, and Wellbox are new to the game.
More fast facts to share with friends and family during the game: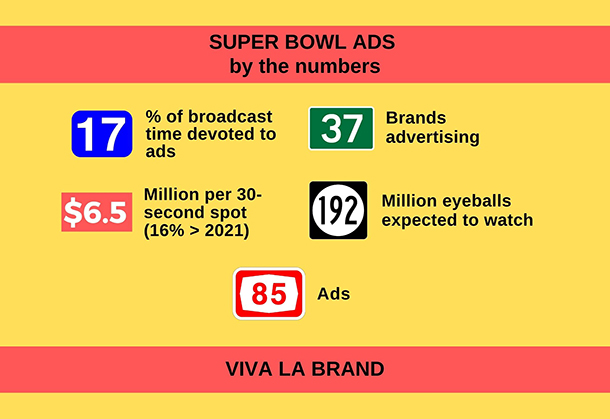 Here's a recap of spots that are already getting buzz that you don't want to miss.
Uber Don't Eats!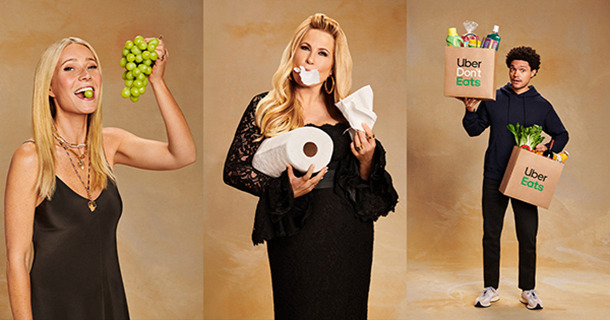 Uber is back with a celebrity packed spot starring Gwyneth Paltrow, Jennifer Coolidge, and Trevor Noah. It hysterically and effectively reminds viewers that Uber delivers more than food.
---
Bud Light Seltzer – A Media Favorite (not mine!)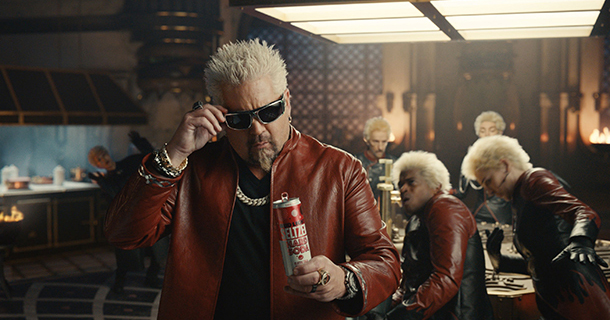 Celebrity Chef Guy Fieri stars in "The Land of Loud Flavors", a spoof hoping to jump-start sales in an increasingly crowded drink category.
---
Lay's Goes to Seth Rogen's Wedding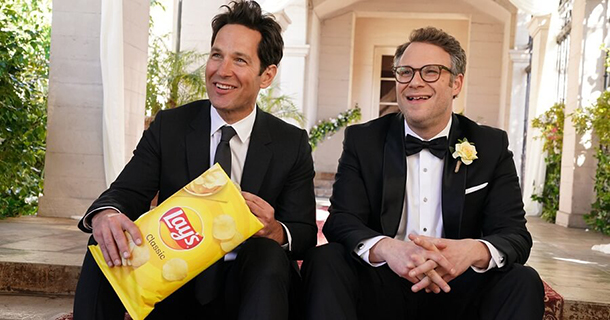 For the first time in 17 years, Lay's will be back on Super Bowl Sunday with a comedic bit featuring Seth Rogen and Paul Rudd playing themselves. The actors are prepping for Rogen's wedding, reminiscing about the good old days. While teasers and the ad dropped in January, you'll have to wait until game day to see who Rogen is marrying.
---
A Dog, an Injured Horse, and a Happy Ending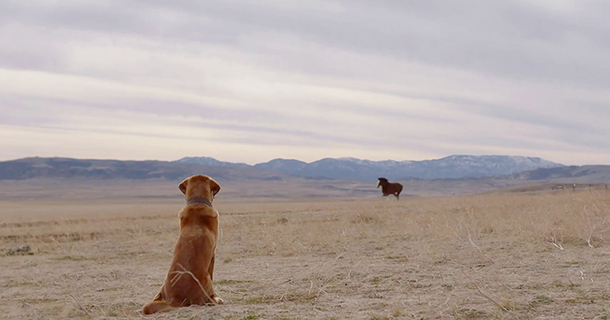 Budweiser debuts A Clydesdale's Journey, where "Down never means out" on Super Bowl Sunday. Directed by Oscar winner Chloe Zhao of "Nomadland," the inspirational tale is meant to be a metaphor for what the nation has been enduring. Have Kleenex ready.
---
Rakuten's Evil Laugh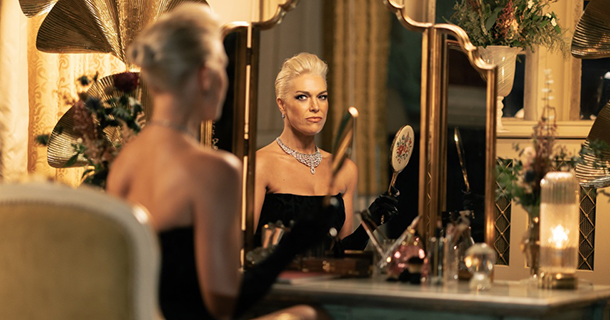 Know Rakuten.com? It's a shopping-rewards platform and a 1st time Super Bowl advertiser. The company is betting on the star of the ad, Hannah Waddingham, the radiant and versatile actor who plays team owner Rebecca Welton in the hit comedy Ted Lasso. Will reviewers remember Rakuten or Rebecca?
---
Flake: The Musical!
Used car online retailer Vroom produced a Broadway-inspired spot to illustrate the roller coaster emotions that car sellers feel when a buyer backs out. It's catchy. But will you remember Vroom?
---
Wallbox Charges Up Super Bowl LVI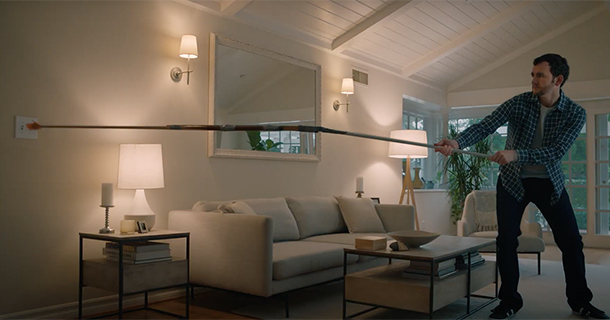 Making its Super Bowl debut, Wallbox, an EV charging company, features a real-life lightning strike survivor to tell its story. The ad aims to show how seamlessly its chargers can fit into drivers' daily lives, even for those with electrophobia. Watch for its 15-second spot during the second quarter of the game.
---
Introducing the Captain Morgan Super Bowl Punch Bowl
Chaos reigns in this spot from Captain Morgan, which features powerful audio and real-time football scores displayed directly on the Captain Morgan smart punch bowl. With glittering LED lights and booming stereo, it's likely to be the centerpiece of any Super Bowl party. Twenty fans can actually win one!
---
Want to catapult your Brand for less than $6.5M? 
Let's talk! [email protected]
Source link